New title cuz yeah, this will be a series. These little tutorials are mostly made for new editors starting out who are trying to find their feet with all the stupid stuff AMV editing brings with it. I'm by no means an editing or tech wiz, and what I'm writing here is basically stuff I was told or picked up over the years.
Since I've already written out a guide to basic encode in my Vegas Pro tutorial, I'm not gonna repeat myself here. I'll link the tutorial for that
here
and you can scroll for it.
Software you need to render in lossless is also in that post, right at the tip top for easy access.
But yeah hi, this here is a little tutorial for rendering lossless out of AE.
So here you are, in your render window (hit Ctrl + M in the comp you wish to render). Firstly, click on 'Render Settings'.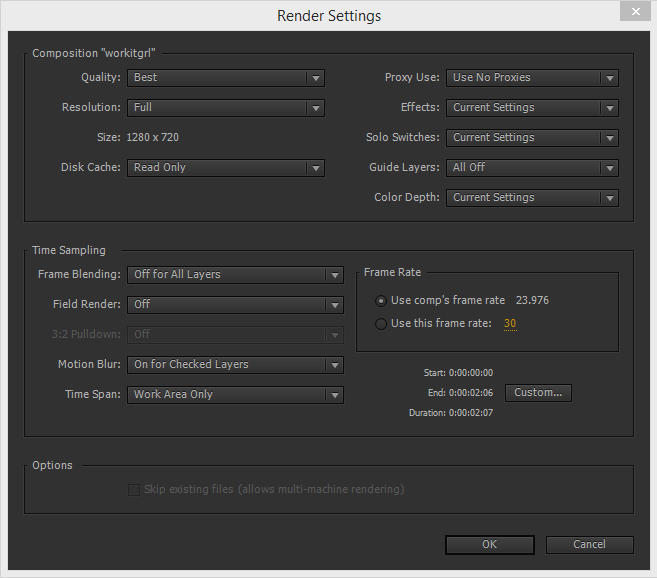 Those settings should be more than enough for anyone. Double check that your FPS is how you want it, and change your resolution to whichever you want.
See 'Color Depth'? I'll run a quick crash course on it. If you leave it as I have in the screenshot, it'll be set to its default (8bit). If you're working with a lot of colour-focus and colour correction, setting it to 32bit is more ideal. But why does this matter? The higher the bit rate is, the smoother, more vibrant and crisper your colours will be. However, it's very taxing on your computer and, as I said, it only really matters if you're rendering something with A LOT of colour work. Things like gradients, diffuse, etc work better with it turned up.
But OK now that's all done, so let's move on. Click 'OK' and go to 'Output Module'.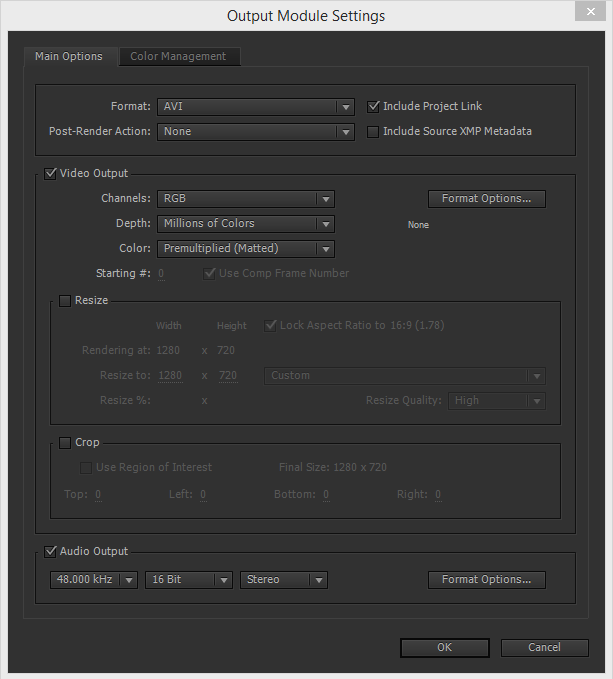 Change your format to .avi. Everything under 'Video Output' should have these settings already. You'll only need to change 'Channels' when you're rendering with transparency (like masks, etc.), but I'll save that for another tutorial. We'll come back to 'Format Options' in a moment.
'Include Project Link' is only important if you have any of your Adobe programs (Premiere, Photoshop, Illustrator, etc) and After Effects linked for your project. It'll be checked by default and it makes no difference whether you have it marked or not (if you're not using Adobe's project linking feature). I'd leave as is since it's safer to have it checked than unchecked.
Check the box for your Audio and that's this window done.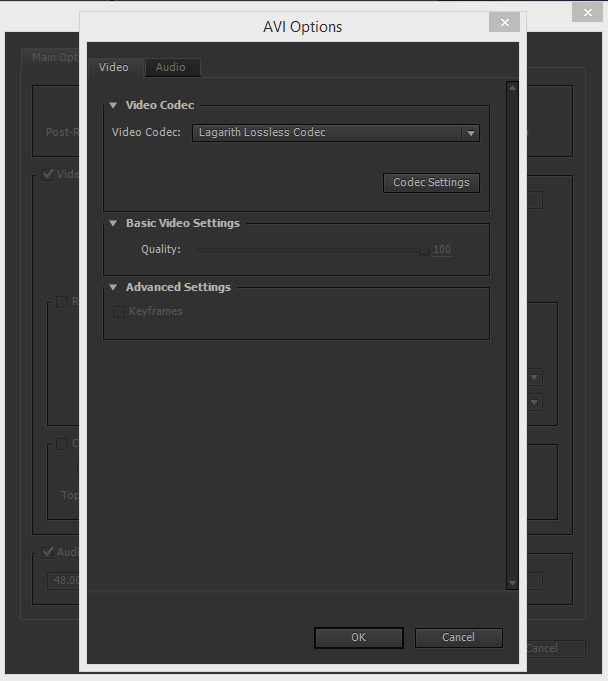 OK now let's go to 'Format Options' back up in Video Output. Select Lagarith Lossless codec.
That's it, we're done. Yes, I ignored the the 'Color Management' tab in Output Module. DON'T TOUCH THAT UNLESS U KNOW WHAT UR DOING. Really, no touchies.

Now we want to save this template. See those drop down arrows beside the 'Render Settings' and 'Output Module'? Click on them. You'll have to do both, but it won't take any time. A selection box should pop up. Click the last option 'Make Template...'. This will take us to our (((basically))) final dialogue box.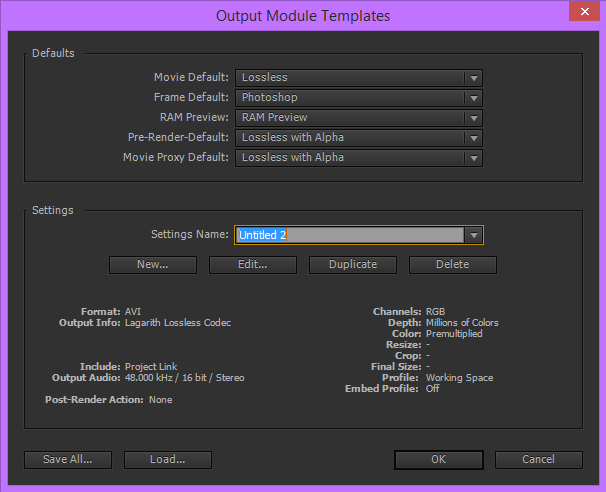 Ignore all of the top part (the 'Defaults'). You're making your own template so you don't need Adobe's free shit. Click 'New' and double check that you're happy with your settings. Then give your template a name you'll recognise and remember. Hit 'OK'. Now your template is saved and will show up in the selection's box that we used before.
Go into 'Output Mode', choose where you want it saved and click that shiny 'Render' button. Once your .avi file has finished rendering (and it will be a pretty big file) you can start encoding it. As I said at the start, since I've already done a tutorial for the encoders (included in the Vegas Pro version of this tutorial), I'll be leaving a link here that'll take you to that topic. I might make a separate tutorial post JUST for the encoder settings, I'll see.
Special thanks to Nos.
Now look at this cute boy. He's so happy eating his pudding.
Last edited by Cat-sama on Sun Jan 17, 2016 11:27 pm; edited 4 times in total
Crows




Posts

: 150


Join date

: 2015-09-03


Location

: New Zealand



Thanks again Cat <3
It's good to have tutorials, even for the basics.

Crows




Posts

: 87


Join date

: 2015-08-10



wow I've been doing this all wrong lel

Crows




Posts

: 33


Join date

: 2015-12-24



ah thanks a lot neko senpai

, that's really got me outta my eternal misery with AE xDD



Posts

: 22


Join date

: 2016-01-01


Age

: 23


Location

: gabes





Similar topics
---
Permissions in this forum:
You
cannot
reply to topics in this forum