Casual disclaimer to remind you all that I ain't an expert and all that I put in these tutorials are basic summaries. If you want something more in depth and written by people who really REALLY know what they're talking about, I'd highly recommend checking out the tutorials on animemusicvideos.org, especially
A&E's Technical Guides
. What I'm writing here is more for people who are happy with quick breakdowns/answers or who (like me) can find the org's tutorials awfully overwhelming at times.
With that out of the way, let's go over some FPS stuff.

Disable Resample (Vegas Pro)

Frame blending, ghosting, interlacing... whatever you may wanna call it, it's a troublesome little thing that you don't want to have messing up your video and, unfortunately, Vegas does it automatically to any video clip you import (project files, clips already deinterlaced, w/e ALL OF IT).
SO WHAT IS IT? ? / /?  ? ?
Essentially, Vegas is trying to make your footage look pretty and smooth. But Vegas is an idiot, so it just makes everything worse instead. Let's look at these images below as an example: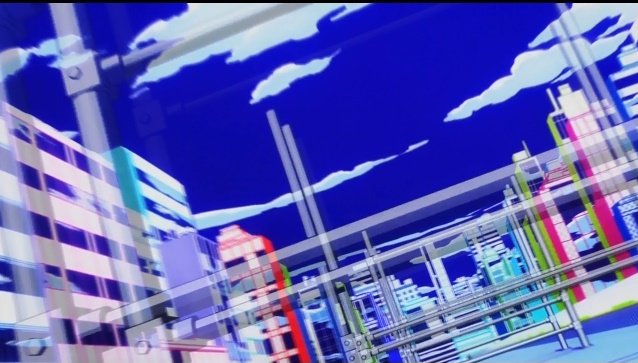 Yes hello this was not in my beautiful episodes (
or my timeline for that matter
). How could this happen to watashi???? I have lived a life devoid of sin just to be punished with this ? ? ?? ?
So yeah, that's what resampling/interlacing is. Not nice. Or appreciated. Sometimes you'll be able to see it in your Vegas preview screen, other times it'll only show itself after you've rendered everything out. It will affect some clips/scenes worse than others (clips that have mismatched fps to your project settings, sped up clips, action orientated clips, clips with choppier animation etc) but make no mistake it is always there. Oh yeah, it'll fuck up - and fuck with - your masking.
SO LET'S GET RID OF THIS SHIT.
Switching off resampling is simple.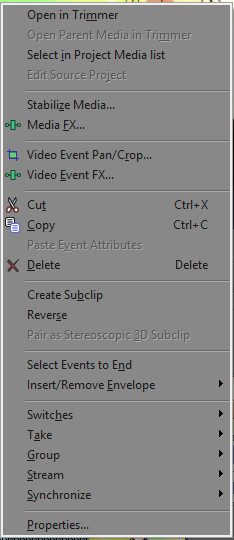 Right click your clip and bring up your select box thingy-ma-jig. See 'Switches'? Hover over that shit.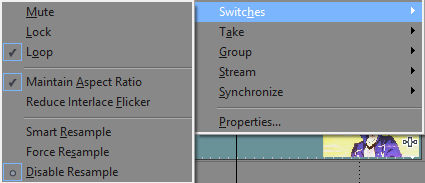 By default, it'll be set to 'Smart Resample'. Change it to 'Disable Resample' (by clicking on that option). The box will close AND UR CLIP WILL BE SAVED.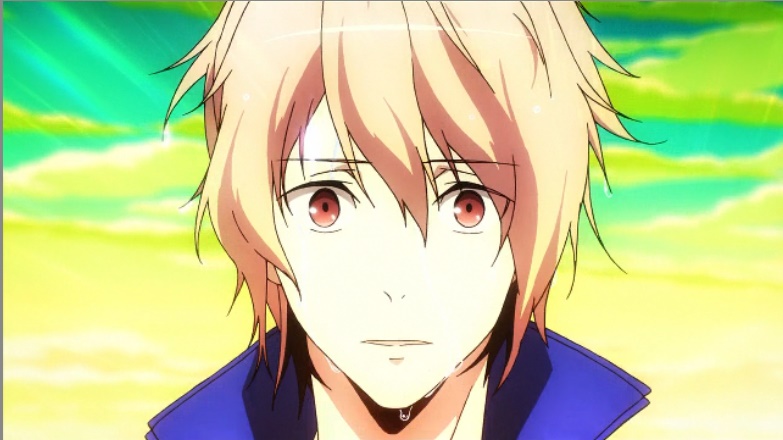 praise jesus
Now u get to do it with all the rest of ur clips. How you wanna go about that is up to you and how you edit. I use Vegas to plan things out and get my clips down; usually, I cant be bothered disabling resampling until I'm about to do a render. When I'm ready, I put the scrubber/marker back to the start of the timeline and go layer by layer, selecting the first clip, holding down Shift and selecting the last clip (thus highlighting the whole layer).

What a fucking god. You have to go layer by layer cuz you can't select multiple clips on multiple layers in Vegas. Because Vegas is stupid.
Alternatively, you can just disable the resampling each time you add a new clip in. It may seem like a hassle at first, but very quickly it'll become second nature to you and you won't even remember doing it. Also make sure the fps in your project and render settings matches the fps of your footage.
Here's a Link to DarkReu's AMVLog
on the same topic. He goes into some more detail and adds in some interesting stuff, so I'd recommend giving it a quick watch.
As an added note, sometimes TV rips of an anime will have inbuilt ghosting. This is usually fixed in the bluray/BDRIP releases. I'll go into more detail in a future tutorial on TVRIPs vs. BDRIPs, so I'll just leave a little example here:
lmao that tv logo tho
Oh yeah, Adobe products (After Effects, Premiere, etc) won't interlace your clips unless you turn it on. IDK why you would turn it on, but yeah, it's off by default, no need to worry. Though if you edited a MEP track and it was put together by the host in Vegas without them disabling resample it then fucking RIP your track.
23.976/24fps & 29.970
These are the two main frame rates people stick with for editing. They're also what most film media gets released in. SO WHAT IS THE DIFFERENCe? ?  Well, 29/30fps obviously means more frames, which can mean smoother movements and more fluid animation. Pretty much all your older anime (roughly pre-widescreen/16:9 era) are in 29.970. Around the time anime switched from 4:3 to 16:9 (actual time frame not certain), the frame rate decreased to 23.976 (commonly short-handed to 23 or 24 fps). So that means
ALL NEW ANIME THAT ARE AIRING RIGHT NOW, IN THE LAST SEVERAL YEARS, WIDESCREENED ARE IN 23FPS.
Cuz it's cheaper or some shit idk.
Does this affect your editing???? Sorta. Editing 23fps anime in a 29fps project can bring about some of that interlacing we were talking about before. In come cases, it can mess with your masks. Also MEPs these days are almost always hosted in 23.976, and yes, your track has a chance of going out of sync if you edited in a different frame rate. Otherwise, it doesn't really matter what you use.
But didn't I just list off a few ways that WOULD make it matter? Well, provided you make sure your clips' fps matches your project and render fps settings and you take the time to disable resample (in the case of Vegas), it shouldn't cause too much of an issue. After that everthing is up to you. I know people who can't stand anything above 23, and others who refuse to work in anything lower (the more fps, the more movement and smoothness you can have in your pans, etc). Personally, I stick with 23.976, since it's what all the modern series are released in and what most people will set for their MEPs (unless they're from the stone age or something
like people who render in .wmv
).
Theoretically you'd edit and render in whatever frame rate your clips are in (so 23 if it was an AMV with a modern anime, 29 for an anime pre-2005 or something), but that's all up to you. I'd rather just stick to using 23.976, and I'd recommend using whatever is most comfortable and easiest for you.
How can you check your series' fps?? Well, one way is by viewing your episode's metadata. Personally, I have the 'Details plane' selected in my View settings for Windows, so I have this handy dandy little window on the side of my folders: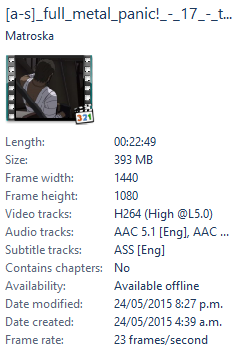 You can also right click the file, go to 'Properties' and click on the 'Details' tab:
Looking in Vegas is similar: right click, 'Properties', 'General' and it'll be listed there under 'Streams'. IDK how to check in Adobe products and I don't feel like breaking my computer opening them to check (it's 4am pls forgive).
How do you do it for a MAC??? I don't fucking know, buy a new computer u idiot.
Make sure fps matches up when converting (
please don't convert
) or encoding your episodes for editing. Gotta make sure that shit is the same as what you'll be editing in.
VFR & Constant Frame Rate
So if you're like me, you're probably like 'wtf is VFR wtf is constant what does that even mean am i going to have to re-encode my episodes again fck this fckn sht i quit'. I only learned this like... a month ago LMAO so my knowledge is basic but ayyyy it's enough to get by and figure out which you'd use.
Simply:
VFR (Variable Frame Rate):
Good for playback or for weaker computers, frame rate will vary depending on situation and how computer is running (or something).
Constant:
Best for editing, frame rate will not change and will remain as default or what you've set. More harder on your computer.
When will you have to worry about it??? When it's a setting in your converter/encoder and maybe if you're using Twixtor extensively. Does it matter if your episodes are VFR?? Will it impact your editing??? Nah, you should be good. The end.
Forreal though, check out the org. They have a lot of good information and lovely people who will go above and beyond to help you. Also Googling this stuff can be very enlightening (Wikipedia has some nice information on fps types, interlacing and VFR/Constant). If you have anything to add, please leave a reply or contact me so I can add it in.
Crows




Posts

: 150


Join date

: 2015-09-03


Location

: New Zealand



Cat your tutorials are always really good and precise <3
Crows




Posts

: 87


Join date

: 2015-08-10



Jeff wrote:Cat your tutorials are always really good and precise <3
praise me more
ty jeff ilu
Crows




Posts

: 150


Join date

: 2015-09-03


Location

: New Zealand






Posts

: 48


Join date

: 2015-12-20


Location

: Aus



Good tutorial. btw is the frame resample ever useful?




Posts

: 50


Join date

: 2016-01-18


Age

: 20


Location

: Earth



_________________
If you have any questions, concerns, problems don't be afraid to add my skype. I am willing to help/try to answer any questions for the IC or editing in general.
Skype:
JonRulz2424
Youtube
Crows




Posts

: 84


Join date

: 2016-01-01


Age

: 26


Location

: Shaolin Temple



OMG nice tutorial i really appreciate the effort and how u constantly do tutorials thank you thank you very much

!



Posts

: 13


Join date

: 2016-02-01


Age

: 22


Location

: Egypt



Nice!

Also, I'm pretty sure anime back then were in 30fps because it was animated differently and now with the upgrades of stuff it moved to 23fps which is the standard frame rates for film and a lot of the studios don't like higher frame rate because of the way it looks.



Posts

: 61


Join date

: 2015-12-21


Location

: Hoth





Similar topics
---
Permissions in this forum:
You
cannot
reply to topics in this forum